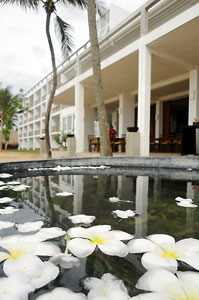 Jetwing Seashells, one of the oldest properties of the Jetwing Hotels in Negombo, has gone through a major upgrade programme to transform the cosy beach property, into a contemporary designer resort called 'Jetwing Sea' within a period of just six months.
The brand new 'Jetwing Sea' was launched yesterday (15 January) in Negombo in the backdrop of a ceremonial function, attended by both the local and foreign travel trade. The new configuration boasts eighty three rooms including two suites tucked away on the topmost floor, offering you an uninterrupted view of the ocean.
The result of a substantial investment in excess of US$ 5m, this venture is collaboration between Jetwing Hotels and Zinc Journeys which is a part of the extensive Chaudhary Group based in Nepal.